Oops, spring is already here!
I have not yet really said goodbye to winter.

Nevertheless, I'm happy about a few warm sunny days, because they have reignited my desire to sew and I've looked through my pattern magazines and of course found far too many patterns that I want to sew. Chances are small, though, that I'll make all of them this year. So I need a plan!

A little bit of where my sewing priorities might lie has already crystallized while writing my 2020 Sustainability Balance Report in January.
Because I would like to continue working on a sustainable wardrobe.
The clothes I sew should match the pieces I already have in my closet. Everything should be easy to combine. I also want to finally finish the UFOs from 2019 this year.

Therefore, I looked at the sewing balance 2020 again and put together a sewing plan, because there are already fabrics for some cuts. There are enough cuts on there for my sewing year. I'm not such an excessive sewer, but the plan results in about one self sewn garment per month on average. Fingers crossed that I do not change my plans in between. :-)

So here it is: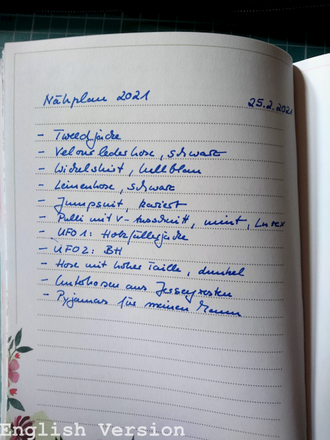 I've already picked out patterns and fabrics for the first six garments on the list. More on that later. The two UFOs (Unfinished Objects) are actually almost finished. But you probably know that, when it gets difficult and complicated, you always find sewing projects that are just much more fun and the poor UFOs remain lying.
In the case of the lumberjack coat, it's the applique on the back that's blocking me. But last night I had an inspiration on how to continue.
The bra (my first self-sewn, by the way!) just needs a little more width at the underbust band. I'm hoping to find a closure with an extension in a matching color. Because that's the hurdle with this. Again, there is light at the end of the tunnel. I found a great store that could help me there.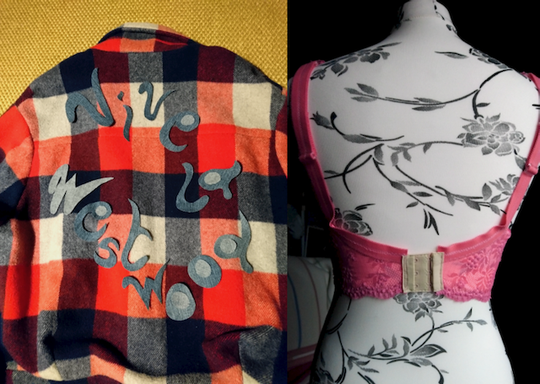 I'll start with #1 on my list then:

1. the tweed jacket
In December I had sewn a test piece to see how it fits. I always fluctuate between two sizes, so I wanted to test here whether I still have to add something. Fortunately, it fits very well. It will be my next project.

The tweed fabric is already cut. I should be able to finish it this weekend. The fabric is from my mom's stash. Real somewhat scratchy wool, so I want to line the jacket.
The cut did it to me right away, especially the advantage with the yokes and large pockets. That makes the jacket special. It is the sewing school model 104 from Burdastyle 11/2020 in a blue fabric.

I will be using two fabrics and decided to use the houndstooth one for the yokes, pockets and sleeves and the light one for the front, back and collar. It would also work the other way around, but when I stopped it looked better in the mirror with the first variant.
To make the jacket fit well with my mostly blue wardrobe, I decided to use blue for the zipper. Also the lining should be blue.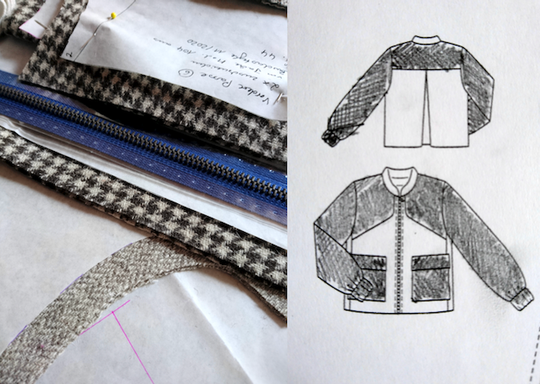 2. suede pants
I have found that I have a hard time sewing pants for myself. I've sewn a few simple ones with elastic and didn't find it that complicated. But somehow I prefer sewing tops, as I've also noticed in my sewing plans.
Actually, I think it's great to have some tailored pants because I'm usually not so happy with the fit of the pants I buy.

Maybe some of you know this? When standing, the pants slip and when sitting, they are comfortable. Or vice versa: When standing, they fit great, but when sitting, they pinch at the waist or the waistband slips under the tummy and must always be pulled up. :-/
Of course I could do more sports, but from experience I never keep it up. And not that you misunderstand me. I've been maintaining my fighting weight for years. I'm no longer 35, but 54, so a few pads are also quite appropriate, against wrinkles and in case of falling. :-)

Okay, back to the pants. I realize that pants with stretch and elastic waistband are the best solution for me. That's why I want to sew myself a pair of black suede pants. I have also already found a cut in Burdastyle 12/2020, mod 123. The cut is divided in the legs because it was made for real leather. But I have faux leather, so I don't need the division. It has elastic in the back waistband, so I hope it fits well and doesn't pinch when sitting. It would go well with the colorful coat I sewed last fall.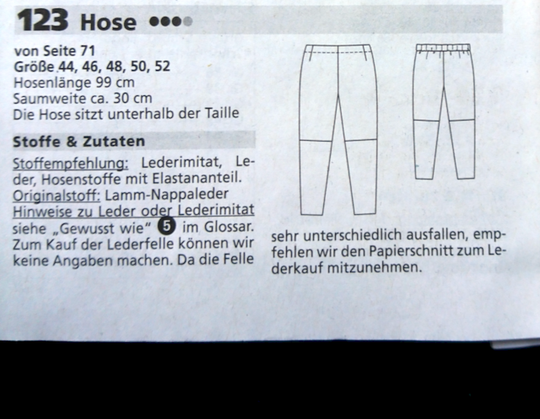 3.wrap shirt
You know the cut from my sewing review 2020? I had sewn it before with an organic cotton jersey (see photo below), but unfortunately it wasn't stretchy enough. It tightened uncomfortably around the chest.
Now I find the cut from the Burdastyle 2/2020, Mod. 116 but so great that I bought a stretchier jersey in light blue. This has a cute ajourd pattern. I hope it works with it.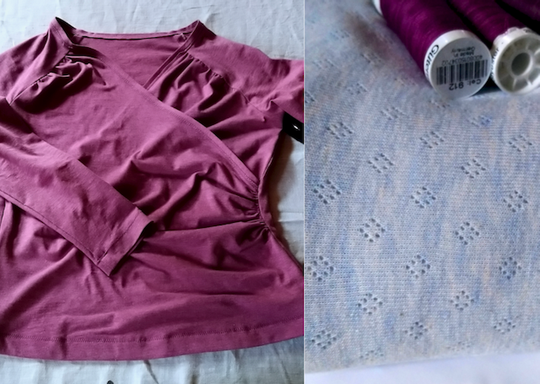 4. jumpsuit
I'm a huge fan of jumpsuits, but I've never sewn one for myself because I always think they're impractical for everyday wear because of the undressing in the bathroom. But now I have discovered a cut in Burdastyle 4/2020, Mod. 110, which looks very comfortable and is very suitable for home. Since I can test the wearing comfort first and since we are anyway just all pretty much at home, it fits but in the time. It also looks very roomy. :-)
I already have the matching fabric. It is made of plaid cotton flannel. It's one of my favorite fabrics. I also like to wear plaid shirts made of such a fabric. If the jumsuit is nothing after all, I can still sew a shirt and pajama pants from it.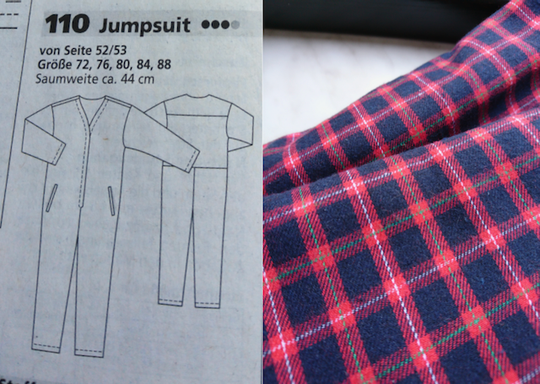 5. lurex sweater
In Burdastyle 11/2020 I saw a cool v-neck sweater, mod 109, which is quite easy to sew. With bars at the waist and ruffles on the sleeves. It looks very elegant. A nice cover-up piece with which you can quickly be well dressed.
With the fabric I chose to go with it, it will probably be a cool party piece, because I bought a mint colored lurex sweat especially for this cut. With the bars you can certainly cheat a bit to magically get the right width.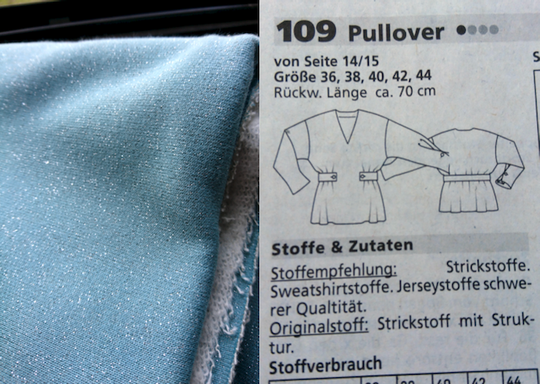 6. linen pants
For the summer and especially for the green vest I sewed last year, see Sustainability Balance 2020, I would like to sew a pair of black linen pants. Unfortunately I don't have black linen in my fabric stash, but it shouldn't be that hard to find even in organic quality.
I also already have a pattern. There is one in Burdastyle 5/2020, Mod. 126 A matching the vest (Mod. 128), for which I want to sew the pants. But probably hangs a bit too much on the hip from the technical drawing. But maybe I can find a better fitting cut.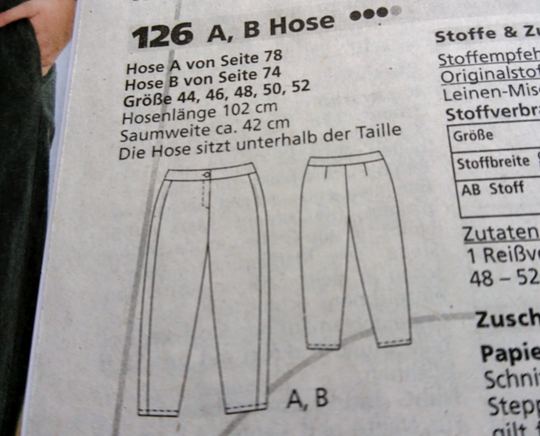 Don't be surprised that I work exclusively with Burdastyle cuts here. I also like to sew from other magazines like Fashionstyle, Nähtrends, La Maison Victor, CUT and of course what I find on the internet. I just have a subscription to Burdastyle and no problems with the patterns, so I mostly sew with those cuts. Not that anyone here gets the idea that I would make hidden advertising.
Now I have already presented some sewing projects on my list. For those that are still missing, such as basic pants with high waist or pajamas for my husband, I still have to find the cuts. But for now, I have enough to do to work through the featured projects. Wish me luck that everything works out and I make good progress. For each completed project, I will preferably also put together a blog article with wearing photos.
So my sewing year can come!

Do you already have sewing plans for this year or do you spontaneously decide on a whim what you want to tailor? Feel free to write me a comment.

I wish you wonderful hours at the sewing machine and enjoy the spring,
Your fashion rebel,
Griselda

+++sayNOtofastfashion+++