Dear friends of sustainable consumption, dear sewing friends,

also after this very special and challengiing year 2020 for all of us, I would like to make a sustainability review for my consumption behavior in fabrics and clothing.

As a fashion rebel, I want to set a good example or inspire more people to become more and more sustainable in the choice and use of their clothes, but I also don't want to spoil the fun of playing with clothes. Too much reason blocks creativity, I think! Still, it's important that we all become more conscious about consuming our clothing.
We sewing enthusiasts know anyway how much fun it is to create your own clothes and make them a reality with your own hands. In the process, we also learned that a t-shirt can't cost just 9€, because the fabric alone costs more in reasonable quality.
I don't consider myself to be someone who already does everything perfectly, but I would like to get to the point where I use and buy fabrics and clothes more and more consciously.

I hope that one day we won't even have to think about whether the materials were produced fairly and ecologically, because nothing else will be offered. Probably this will remain a dream, but you can dream!
But now I don't want to keep you in suspense any longer and finally get started: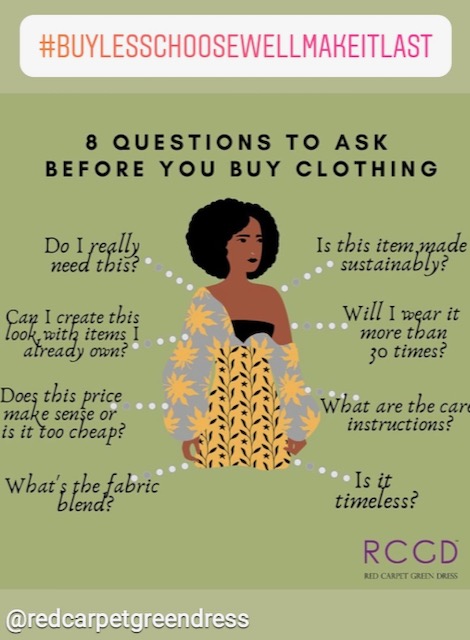 I use the same category catalog as last year.

On the web, you can find even more good orientation options to get an overview of the sustainability of your own wardrobe.

For example, I always like to check out FASHION REVOLUTION DEUTSCHLAND, they have lots of tips for a green closet.

There are many other sites and books and magazines on the subject. I'd be happy to make you a list if you like.

So, my categories are:

1. self-sewn clothes, which have been finished.

2. self-sewn clothes, which are not finished yet, so called UFOs.

3. second-hand bought or acquired clothes

4. new bought clothes


This year I would like to add one more category, see title:

5. what could be repaired or re - or upcycled?

6. new bought fabrics

7. what did I give away?
1. Self-sewn clothes that have been finished.

Corona-related I probably had more time to sew than in 2019, but felt I sewed little.
I guess it could be because I didn't have as many opportunities in 2020 to take out my beautiful new creations.
Somehow, at times like this, I find myself wearing the same things even more often than usual....

I'll start with the clothes I sewed for myself:

The first was the white shirt, which you can see in the picture above! The pattern is from Burdastyle 2/2020, #119. The fabric is from my fabric stash. I think it's inherited. In any case, I didn't buy it.
The shirt was sewn quickly and I like it, but I've only worn it twice at the most. I think that's because I don't have pants to go with it. The one I'm wearing in the picture is actually too tight for me. Yes, I know what you think now...—>category 6 :-) But I still need them for the photoshoots until I have sewn a matching one.
The wrap shirt is also from Burdastyle 2/2020, cut no. 116. There are no wearing photos of this because the shirt is too tight for me. The jersey was not stretchy enough for my chest circumference. But I like the cut and have already bought a more elastic jersey for it (see fabric purchase). Maybe this will be my spring project.

Fortunately, the raspberry-colored wrap shirt has already found a new owner, and it looks great on her.
I'm always happy when I can pass on something I've made myself that I no longer like.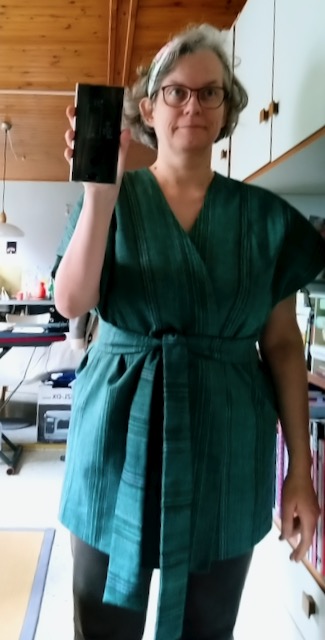 This green cardigan with stripes is very special to me. The fabric has woven a deceased aunt of mine. I have inherited it. When I was looking for a suitable fabric for the cardigan cut No. 128 from Burdastyle 5/2020, I knew immediately that the fabric would be well suited. Unfortunately, I don't know what fibers my aunt wove, but it might have wool and linen in it.

A nice garment for the summer. I would also like to sew a pair of black linen pants to go with it. So I already have two projects for spring.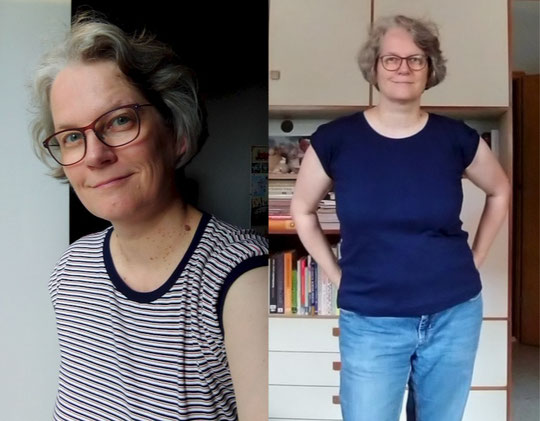 In the summer I felt like sewing something according to my own pattern. To familiarize myself with the matter I have made the above two simple T-shirts according to my exact measurements.

The joke is that the cut is straight and I only had to cut out the neckline in the fabric fold. For the armholes, I left the side seams open. Then add cuffs to the arm and necklines and you have a perfectly fitting shirt. Here I was able to use a few jersey scraps very well. I'll definitely make a few more of these.
I wore them very often, because they fit almost all my stuff.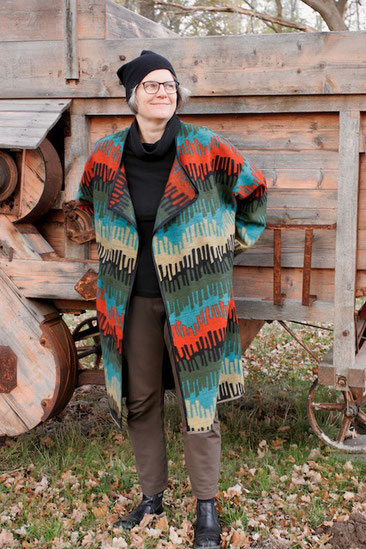 My absolute favorite sewing project last year was the reversible coat from this colorful great patterned designer knit. A simple cut from Burdastyle 11/2016, No. 123. I sewed and presented it as part of Anke @grenzgaengerdesign's coat sew-along.

By the way, I bought the fabric for it at the beginning of 2020 and I'm glad that it didn't have to lead a shadowy existence in my fabric stash for too long.

In the photo, I'm wearing a self-sewn black turtleneck with the coat. The beanie is made of jersey and also self-sewn. The pants are bought.

However, I would like to sew a pair of pants from black elastic suede leatherette to it. The one I'm wearing in the photo works too, but I like a black one better with it.

You can tell I have sewing projects in the back of my mind to go with the clothes I have. I want nothing to hang around unused in the closet.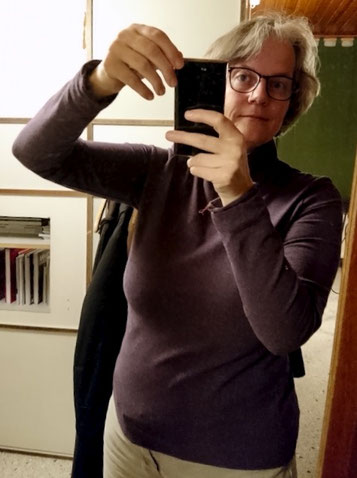 Then in December I still felt like sewing myself a turtleneck shirt from jersey fabric again. I love to wear them the most in winter. I can never have enough of them. A must have for my basic wardrobe!

The pattern is from a manual for over and coverlock machines by Gaby Seeberg-Wilhelm "Overlock-Die ersten Stiche".

Last year I took advantage of the sales tax cut in Germany and added a Husquarna Huskylock s15 and a Janome Cover Pro 2000 cpx to my machine fleet. These are really great sewing machines and have served me very well on the turtleneck and the reversible knit coat.

You know the lilac jersey fabric from the 2019 sustainability report, where I bought it alongside four others. After all, I have already sewn two of the four, see also red turtleneck.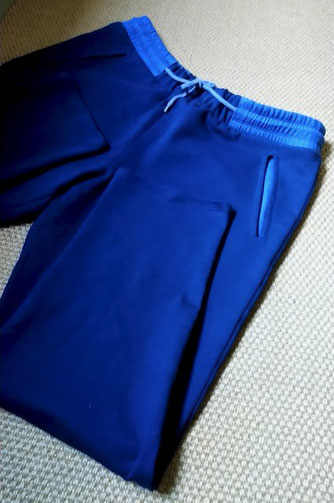 And then last year I actually finally managed to sew a chic pair of sweatpants for my husband. He loves to wear them. It is after a cut from a CUT magazine. I especially totally love the pocket openings.
I was able to use a cord from a discarded hoodie and leftover denim for this project. There the Fashionrebels heart jumps for joy!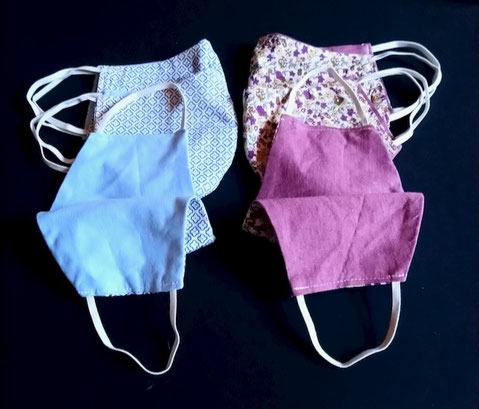 In the department "Sewing for Others 2020" of course the everyday masks can not be missing.

Here are two sets for my brother and his wife. The outer fabric is cotton woven fabric and the inner fabric is cotton jersey. The rasberry coloured is organic cotton jersey, which you met before (see the wrap shirt I gave to a friend of mine). I found all the materials in my fabric stash.

I have sewn for almost the whole family and also for a circle of friends.
I have to admit though, that was enough for me then. I really admire each and everyone who sewed masks day and night. I know some very hardworking folks. For some professional tailors, I hope this has taken some of the edge off the business slump.

Unfortunately, we still need those pesky things, but I hope we're through with Corona when I write the next sustainability report in a year. Keep your fingers crossed!

BTW...Can you still do it? I still have quite a few categories on the list. I hope you like to read on. I'll try to keep it short and let the pictures speak for themselves. :-)

Here comes the second category:

2. self-sewn clothes that are not yet finished, so-called UFOs.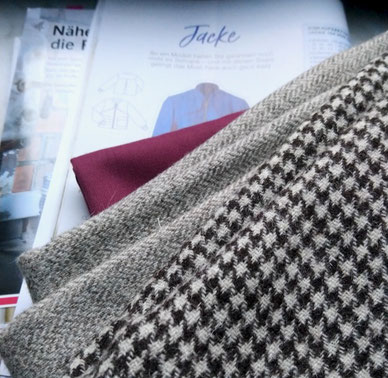 Here I can make it short :-)

The jacket, the bra and the pants, the UFOs from last year are still UFOs. I have to confess that. I don't want to promise anything here, but the bra and the jacket should be finished this year!

Then I'll add a UFO now, because I started that just before Christmas.
There is already a sample of the jacket cut you see in the picture above.
I can imagine that the jacket will look very good from the two great tweed fabrics. By the way, these are still fabrics from my mom. I think she even brought them from Scotland. Unfortunately I can't ask her anymore.

The next category is:

3. second-hand bought or acquired clothing.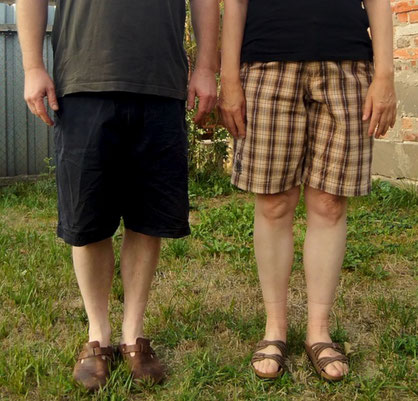 The funny picture was taken when we wanted to thank our friend for the shorts he had discarded at his place.

Actually, he just wanted to inherit my husband, but he did not like the plaid shorts. So I tried them on and they fit. And because I like to wear men's shorts in the summer, they went straight into my closet.

By the way, my husband dusted off a few more shorts in addition to the dark one. Second-hand purchased clothing is a very sustainable and resource-saving way to get new clothes. We were very pleased with our haul.

The fourth category follows:

4. Newly purchased clothing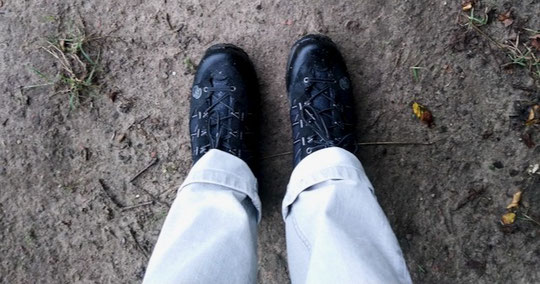 Here I have acquired this year but a few pieces.

I needed once again decent hiking boots for wind and weather. The old have done since 2005 super good service, but now they are worn out. I hope the new ones will last at least 15 years.
The new hiking boots (see photo) are super comfortable and sustainable, because if the soles are worn through, you can get new ones from the manufacturer. I find that super.

Then I bought myself some new slippers. The old ones were inherited second-hand, but because they were home-knitted, they wore out quickly. The new ones have a rubber sole, so they will last longer.

Other than that, I bought two cashmere sweaters, a merino cardigan, and a cotton/wool oversized knit sweater. I can't knit and don't have the patience to do so. So I always have to buy some for myself. I hope the things last a nice long time. I've worn the oversize sweater quite a bit. The cardigan too.
The two cashmere sweaters are still too thin at the moment, but in the transitional period certainly very cozy. My old cashmere sweaters were inherited from my mom and they are now irreparably worn through.
Maybe I can still conjure up something new from it.

For the spring I have already bought two well to combine pieces of clothing from linen. A jacket in an undefinable color, which goes well with black and a shirt in a nice navy blue. The two things I can combine well with my blue jeans or black pants I still want to sew this year.

I sew my clothes mainly myself, but sewing everything myself takes too much time. These things have timeless cuts and linen is a very sustainable material, I will certainly have a long time joy.
I could not pass by a T-shirt with "Baby Groot" from "Guardians of the Galaxy". But I still have to change that, because it is too bulky for me. Yes, I know, could become a UFO.

Then I bought five pairs of underpants, two of which are too tight in the waist, but the others are okay. One could become the basic cut, so that I can sew my own underpants in the future. I'm always annoyed by this roulette game, whether the purchased copies sit well or are failures again.

Otherwise, I have afforded me a beautiful wool white beret and a beanie with LED light.
The wool basque in a neutral color, because I needed a replacement for my old grey one, so you can match it with all my jackets and coats.

And the LED beanie is cool because it makes it easier for me to see the keyholes on our gate and front door in the dark and, of course, to be seen better. It also replaces a flashlight when you need both hands. But it is definitely not produced eco-fair. I bought them at the hardware store.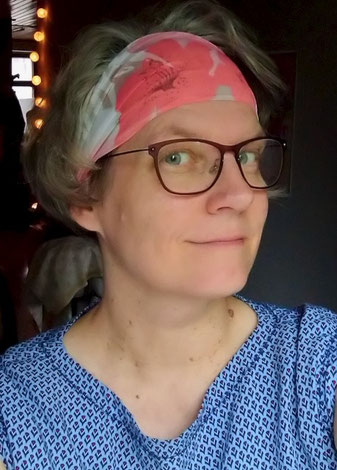 And here comes a new category

5: What could be repaired, recycled or upcycled?

During World War 2, the motto in England was "Make, Do and Mend!" because textiles were rationed. Therefore, the English were encouraged to make new clothes from existing ones or to repair them.

Click here for a charming video about the "Make Do and Mend" story on the Imperial War Museums site.

These days we don't have a shortage of textiles, but the opposite, overproduction. There is so much clothing in the whole world that we would not need to make any new ones at all. This would also be very good, because we could save the environment to a very large extent.

The textile industry is one of the biggest polluters of the environment due to its manufacturing processes, especially in the field of textile dyeing, where an enormous amount of water is consumed and polluted.

So it would be good if every single one of us is very careful with the clothes we have in our closet so that they last a long time or repair or recycle things by making something new out of them.

That's why within my sustainability balance sheet, there is now this new category where I tell what clothes I was able to repair or embellish or give a new purpose.

In the picture at the top you can see everything I was able to repair or give new life to in the last year. That's a great feeling when you've done it once. Unfortunately, I am one of those people who like to leave such projects for a very long time.

When a friend invited me last summer, but to her to sew together, I needed a few quick to do sewing projects, because I should actually show her a few sewing tips and tricks.

I thought it would be a good opportunity to finally sew buttons and torn out pocket seams back on:

My husband, for example, was very pleased that I made his black jacket nice again. Unfortunately, he has already torn off another button. Grrrr! Next time I'll sew the button on the inside so it doesn't get stuck on the shopping cart again.

Or fix the facings on my blouse in the picture above with a nice decorative stitch, and add a new elastic to my hair band. The hair band in the picture above is a copy of mine and was given away. It's pretty easy to make. And I was able to try out the rolled hem foot on my sewing machine right away.

Then when you end up with everything back in working order, you feel like you have a few new garments without having spent a lot of money. The black jacket of my husband fits and suits me too ;-)

Now comes the penultimate category for the fabric addicts among you.

6. Newly bought or second-hand acquired fabrics

I have afforded me this year but again a few. With fabrics I can resist only with difficulty.

They are mainly clothing fabrics. I have already sewn one of them for the reversible coat. The fabric should look familiar to you.

The light blue jersey fabric with the hole pattern I bought especially for the wrap shirt I told you about earlier. I think it could be very pretty.

To the right is a plaid cotton flannel fabric. There are four meters in total. I found it cheaper on the remnant table and I already know what I want to make out of it. It should be a jumpsuit. In Burdastyle 4/2020 I discovered a very comfortable cut # 110, which I like super much.

The fabric above it is a caramel-colored wool remnant, but it doesn't have a purpose yet. Maybe I'll turn it into a pencil skirt.

Next to it is a great plaid viscose fabric that I want to make a breezy summer dress out of.

Then there is a pink and a striped knit fabric to see, which I will probably make a cardigan out of. The pink one will eventually become a cool sweater. I haven't found the right cut yet though.

Then there is the beautiful lace, also a remnant that I just picked up because I thought it was so pretty. Just like the purple satin and the patterned fabric underneath.

Then I have three fabrics in the bottom row middle that I thought were beautiful, but don't know what I want to do with them yet. The middle one of those is a lining fabric, but it would also make a good back piece for a vest.

And the last one is a mint sweatshirt fabric with lurex for a shirt with a v-neck and ties at the waist, which I saw in a Burdastyle. I can't find it right now though.

I'm quite proud that I've been much more selective in my fabric shopping this year. It's become quite a lot and unfortunately I do not know for most of them, whether they were produced ecofair, but mostly they are from the remnant table or specifically purchased for a project, then that's okay with me.

I think the fabrics that are sold should always have all the labels like the clothes, so you can better understand what they were made of and where they come from.

And now for the last category:

7. What did I give away?

Finally, the things to which I said "goodbye" last year.

The self-made dress from the beautiful viscose fabric I could pass on to a friend, who liked it much better than me. I found myself somehow too voluminous in it. But I still like the fabric very much. I still have a bit of it in the remnant box. Maybe it's enough for a little summer shirt.

The already mentioned raspberry wrap shirt also went to a friend.

And the slippers and boots have all done their duty and are now in shoe nirvana.

Conclusion:

After rereading the whole 2020 sustainability review, it strikes me that I already have a sewing project on the to-do list for every month this year, by the way. Eeeek...scratching my head!
I'm hoping to get at least half done. When gardening season rolls around again, there's usually little time for sewing.

As for the greener closet checklist, there's still room to go, but I think I'm on a good path. I wear a lot of things until they almost fall off my body and try to buy as little as possible without thinking.

This year I try to sew as much as possible myself and buy very little, both fabrics and clothes. What helps best is not to go shopping at all, not even online.
Luckily, I live in a small town where there are no stores with fabrics or clothes at all and I don't like to buy online.

If it gets the better of me, I'll just go "shopping" in my own closet! There I discover then sometimes completely new great combination possibilities. Maybe you'll see them soon on my Instagram account or here on the blog!

I hope you liked my quite detailed sustainability balance 2020 review and I inspired you to also reflect how green, fair and sustainable it looks like in your closet. I would be very interested in that!

I wish you a wonderful sewing year and hold on, there will be better times again,

Your Fashionrebel, Griselda

+++sayNOtofastfashion+++