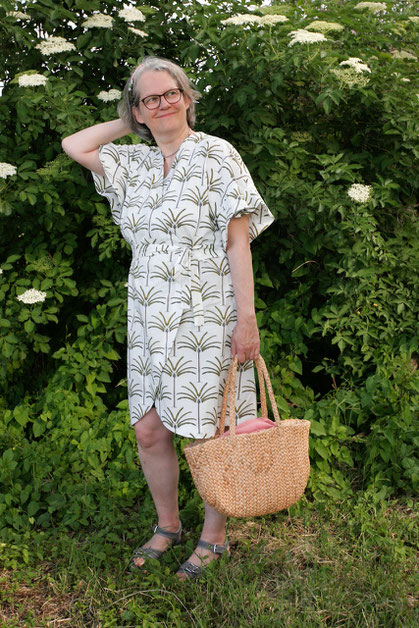 Dear sewing bees,
I am happy to finally be part of #memademittwoch again. I've missed it most of the time in the last few years. A month always goes by so quickly and oops...it's MEMADEWEDNESDAY again? Damn, I missed it again!
But now everything comes together well! And then the lovely Jeannette from @kurzgenaeht conveniently sent out a reminder a week before. That was the motivation for me to get my article ready in time. And I actually managed to get the dress, photos and blog article done in one week! Yay!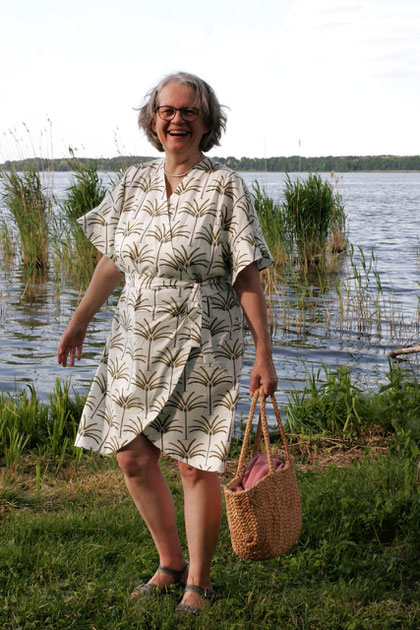 My latest sewing project was ready to be cut. I've had it on my sewing plan for a long time, which I've been working on since 2022. It helps me to cut down on fabric and sew more things that I actually wear!
I've been trying to become more sustainable in my fabric and clothing consumption for a few years now. The days when I used to buy fabric without knowing what cut I was going to sew with it are pretty much over. Every now and then there is a mistake, but in the meantime I can easily wander through fabric shops without buying anything ;-)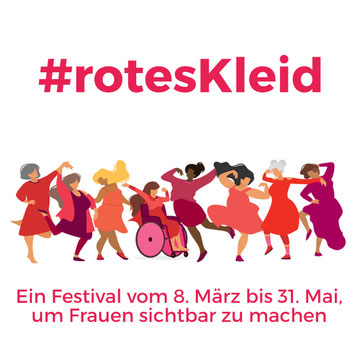 I wanted to sew this wrap dress as part of the #roteskleid project by Meike @crafteln and Constanze @nahtzugabe. But I only managed to cut it out on the day of the online-sew-along-event. And I noticed once again that it's hard for me to concentrate on my sewing project when I'm at an online sewing circle.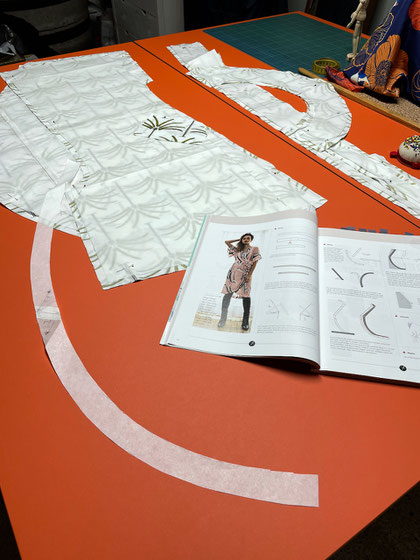 As I have already sewn two sewing projects in red fabric this year (not yet on the blog), I preferred to sew the wrap dress 'Annalise' from La Maison Victor 2/2019 for the Red Dress Festival. It's not red, but at least the palm tree motif and the pretty cut make it visible.
I already have a red dress in my wardrobe. I like to show it as an example of sustainable sewing from bed linen. It was made a few years ago as part of a Japan Sew-Along with patterns by Japanese designers. There is also a blog article about it (not yet in English, sorry).💃💃
But let's get back to 'Annalise':
When I was cutting it out, I first noticed that the fabric wasn't enough. :-/ But I really wanted to use the palm tree fabric and after overcoming the first moment of shock, I decided to divide the facing with the big curve and to ignore the grain. That way the fabric was enough after all.
The joining was actually quite quick. The cuffs for the sleeves and the ribbons for the wrap were no hurdle. But when I came back to the trim, it suddenly didn't fit the edges of the dress anymore.
After three attempts to pin it, I found the mistake. I had mixed up the left and right sides of the trim. Luckily I didn't have to cut them again. That wouldn't have worked because I was out of fabric.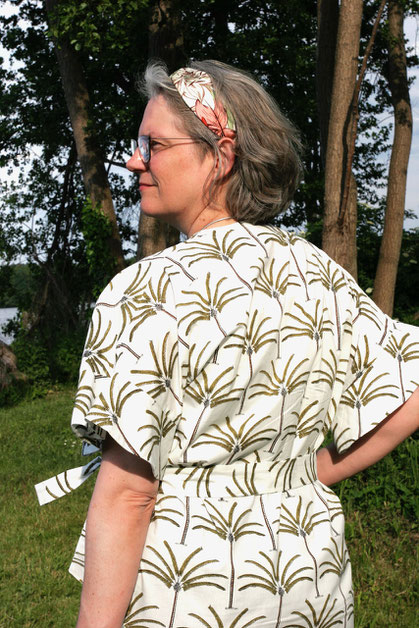 Sewing on the trim was the most difficult part of sewing the wrap dress, especially around the neckline.
The dress is very pleasantly airy and light. The length could have been a bit more above the knee. The overlapping curved edges of the front parts look great when standing, but they fall apart unflatteringly when sitting.
I prefer to wear short tights underneath. That's what I do with dresses in summer anyway, because otherwise I chafe my thighs.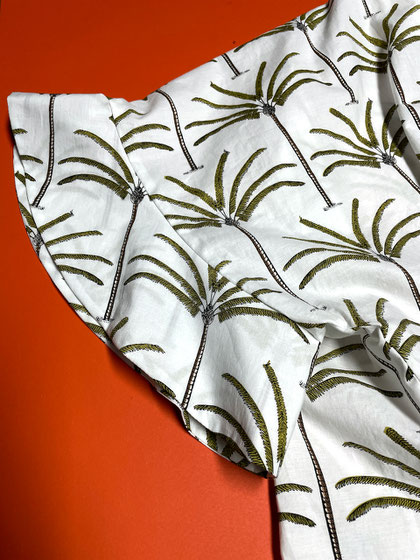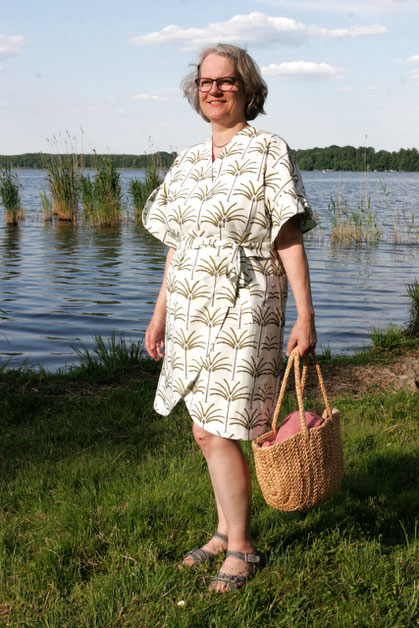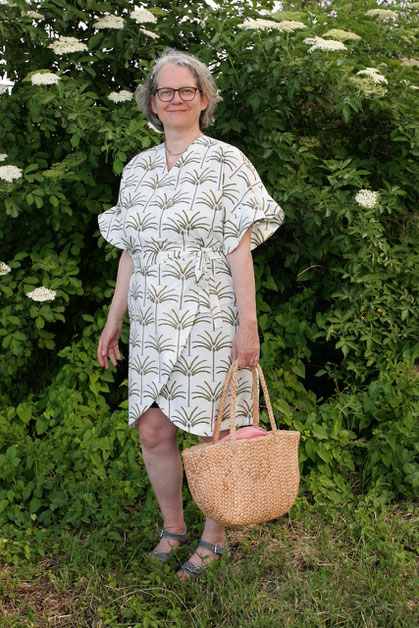 I wish you a wonderful summer and am now looking forward to your MEMADEMITTWOCH creations, which I will link to directly here.
Warm greetings
Griselda
+++#sayNOtofastfashion+++
Data for wrap dress:
Pattern: La Maison Victor 2/2019, Mod. Annalise
Size: 44
Material: Cotton fabric with palm tree motif
Accessories: Vlieseline
Source: Volksfaden, Berlin-Schöneberg (unfortunately no longer available)
Alteration: Trimming divided, because otherwise the fabric would not have been enough.