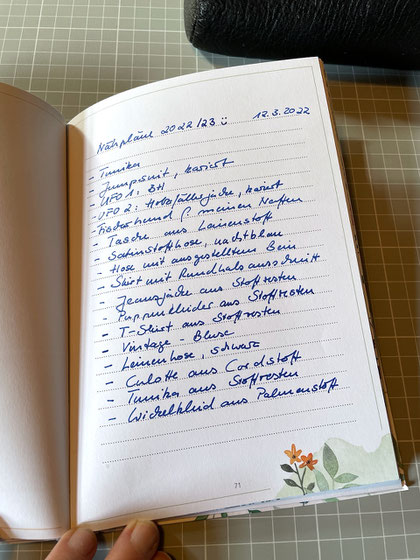 Dear sewing nerds and fashionrebels,
I made myself a sewing plan like last year. That had totally proven itself, because I sewed almost only items that were on the list. I finished about half of the projects that were on the sewing plan 2021. What was on it, you can read again here and what I actually sewed, here.
This year, I plan to do it again.
Only I was faced with a dilemma in the planning: I first picked out patterns that I would like to sew. But that turned out to be a trap. I don't have the right fabrics in stock. Because I've decided to do some more intensive fabric clearance this year. Will say, I want to use only fabrics from my fabric stash. Because I want to use not only resource-conserving clothing, but also fabrics. Otherwise I will be untrustworthy as a slowfashionrebel! :-) And in these scary times you really have to turn every penny three times.
It was then clear that I have to do exactly the opposite and first select the fabrics that I definitely want to sew. Because the biggest problem was, the right amount of fabric and the right material.
For example, there are the most beautiful fabrics in my stash, which unfortunately are not enough for my favorite patterns.
By the way, I am convinced that the fabric knows best what it wants to become later. That is the magic of sewing for me!
The new approach worked out great, as you can see from my to-sew list. And by the pile of fabric in the photo below!
I'm especially pleased that the fabrics all harmonize in color. This will be a well combinable complete wardrobe for spring and summer!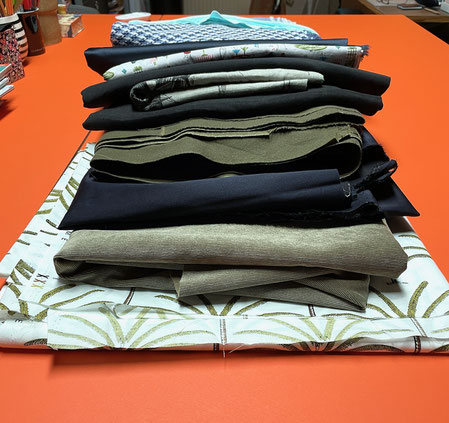 Now, by taking the approach of picking out patterns based on the fabrics I have on hand, I have so many sewing projects on the list that there are enough for two years! :-)
This is also due to the fact that I still have sewing projects from last year included. Especially the two ufos, the lumberjack coat and the bra are long overdue. Therefore, the photos now also come to the resubmission. :-)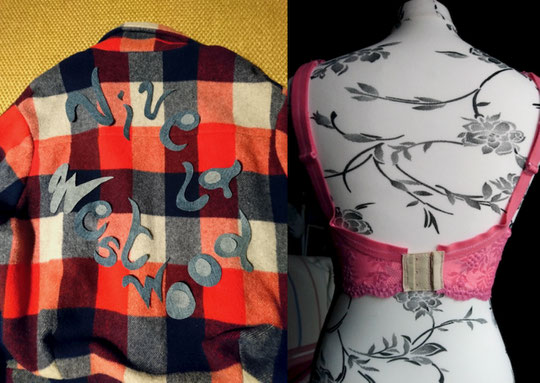 Also the plaid jumpsuit from the sewing plan 2021 has landed again on the new list. Because I really want to sew and I have the matching fabric ready. Would go super well with the lumberjack coat!
Maybe I should start with it ... What do you think?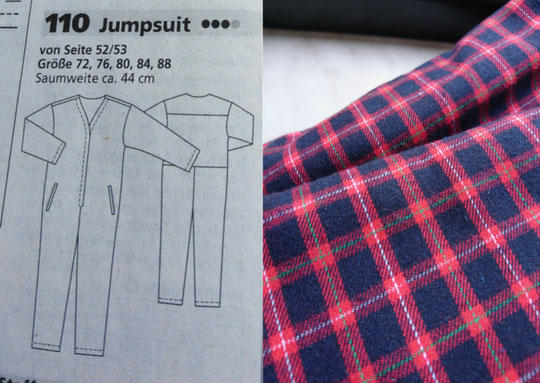 So much for the sewing projects that are still waiting for completion since last year. They are on top of my sewing schedule!
But will be settled at the end of the year. Because I have already been tempted this year to sew a blouse from a current Burdastyle 03/2022. Quite spontaneously. Unfortunately, I have to say. I think the cut is great, but the fabric I chose doesn't suit me. I think the fabric is great, but it makes me pale! Bold colors suit me better. However, the fabric was exemplary taken from my stash. After all!
But the tunic is worth a second try, so it's on the 2022 sewing schedule with this cool light blue cotton fabric that has such little neon dots woven into it. It should actually look quite chic in the end. At least I hope so!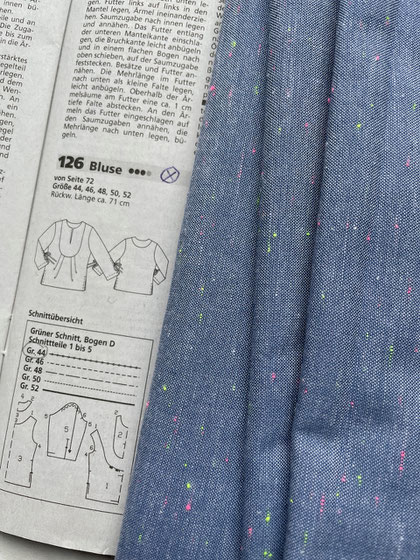 On my sewing plan 2022(/2023) is in fact a variety of clothes. A dress, pants, blouses, T-shirts, jackets, a bra, a bag, etc.. All in all a complete wardrobe. Therefore, I will now present the individual sewing projects category by category and therefore continue first with the blouses.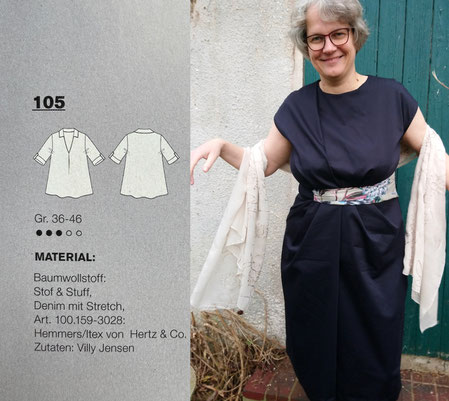 The second tunic is a pattern that I have wanted to sew for a long time. It is from a sewing magazine, which unfortunately no longer exists. The "Handarbeit".
Anyway, I rediscovered the beautiful tunic cut with short sleeves and found a fabric remnant to match. The fabric is a dark blue stretch satin that has plenty left over from my 2019 Christmas dress. I can imagine the tunic well with it.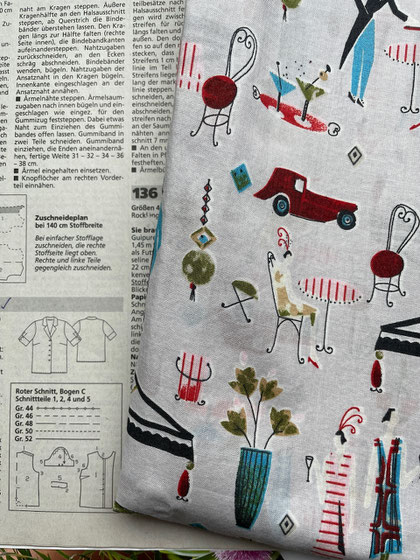 The vintage summer blouse from the Burdastyle Magazine 5/2012 I have already sewn as a sample part, which I have worn every now and then. In between I had discovered this beautiful fabric (see photo) and wanted to sew the vintage blouse again. But somehow it never worked out. Now, while looking through my fabric stash for potential fabrics, I rediscovered it. This year, I'm finally going to honor it. The fabric is much too good to keep it hidden in the fabric stash.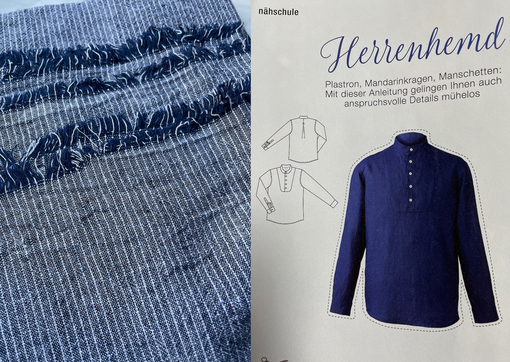 The next project I will sew exceptionally not for me. But for my nephew. The cut of this men's shirt with plastron from the Burdastyle 07/2019 it has me very taken. And I can imagine it well in a more rustic version with the striped cotton linen fabric. Especially on my nephew, who is currently renovating an old wooden boat to sail it across the seas.
Speaking of - seas!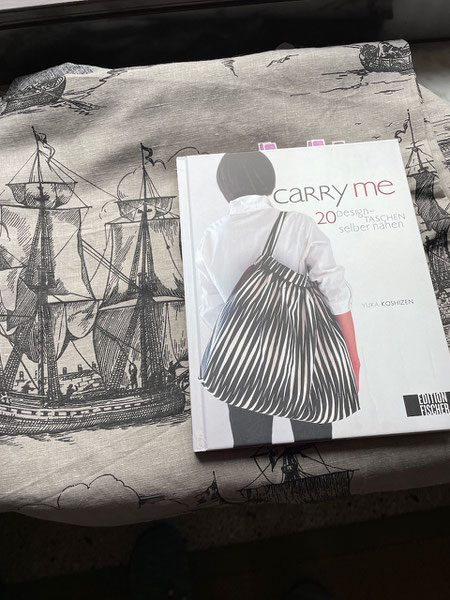 This great linen fabric remnant I have once swapped.(Very sustainable!) I always wanted to sew the bag "Grany Bag á la Rive Gauche" from the book "Carry Me" by Kuka Koshizen. I have sewn this bag pattern before and always enjoy carrying it. Especially because it is very roomy!
Here you can see my first version.
Will definitely look good with the ships fabric as a beach accessory. But this will be the only bag I sew this year. I really have enough bags.
Speaking of the beach! For such an occasion, I can also imagine the wrap dress from La Maison Victor with the cool beautiful light palm fabric.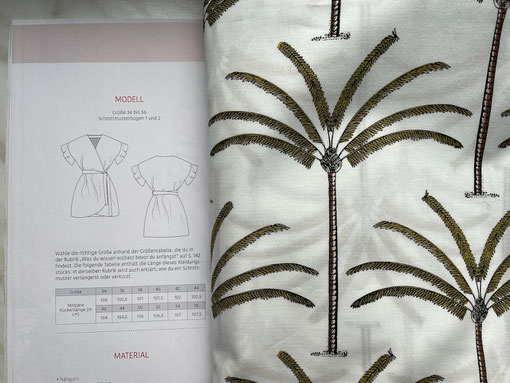 The palm fabric I also have a little longer in stock, because I have never found a suitable pattern for it. But now it could be something. I really feel like summer vacation and therefore continue with the T-shirts.
There are two patterns that I have chosen: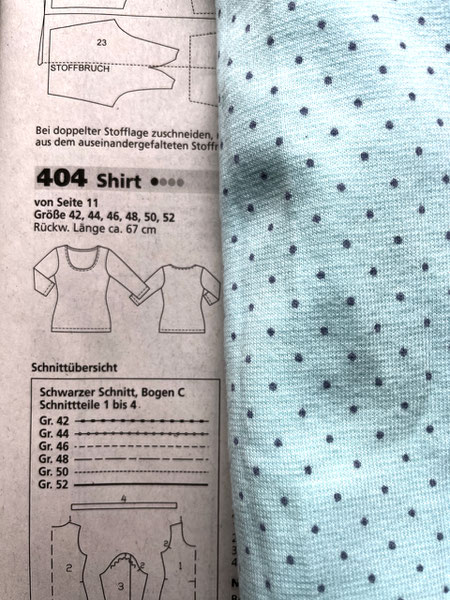 Once this elegant shirt with round neck from the Burdastyle FS/2021. A super basic piece, which I will probably sew in different fabric variations. For the test first in this turquoise jersey, which still comes from my mom's fabric stash.
The second shirt is a version without sleeves with crossed shoulders from la Maison Victor XL "Top Harley". Also a great basic pattern for many different versions.
I'm using a patterned jaquard jersey for my first example. It should fit very well. I acquired it from a sewing friend once at a fabric swap.
( I have already sewn it in the meantime. )
With the result I am more than satisfied. Fits great and will be certainly sewn again!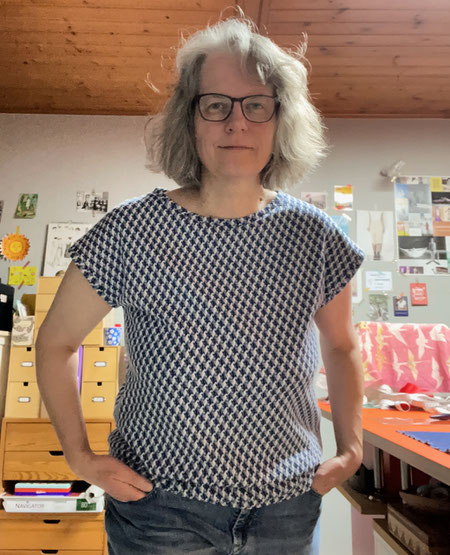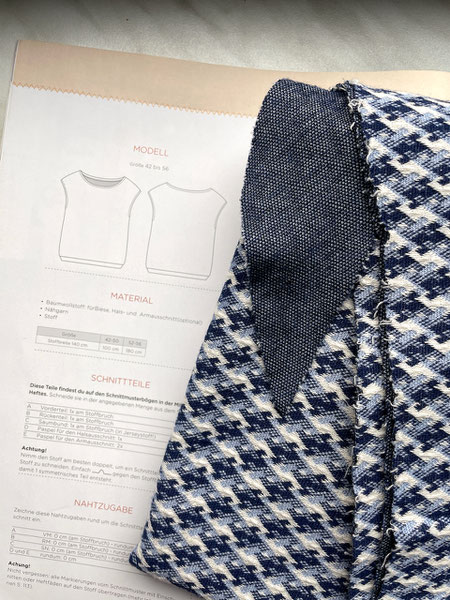 When the cooler days come, of course I need a casual jacket. Since I discovered a great pattern in Burdastyle 5/2021, which certainly looks good in my safari version. The fabric remnant is from a pair of summer pants I once sewed. Unfortunately, I outgrew the pants. I described the pants here once.
I think they were my first homemade ones. The fabric has a flannel-like soft feel.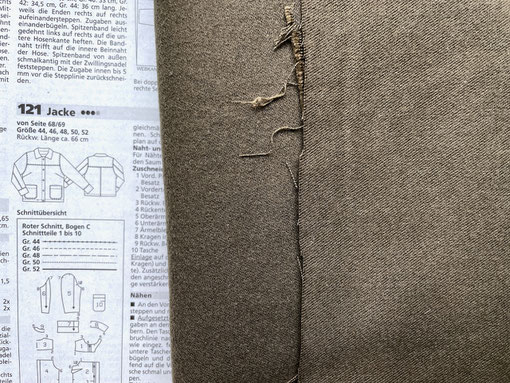 With this khaki jacket I imagine the culotte in a muddy stretch fine corduroy well. The culotte is from the same "needlework" issue as the short sleeve tunic. When it's all finished, I'll have a matching outfit for the cooler summer days. Oh, I can already picture it all so well, I'm already wearing the things in my mind. :-)
The fabric I have also long in stock, because I did not know what I want to sew from it. Is now not exactly a highlight color. But it can be combined well with other colors. The fabric comes from Monika from schneidermeistern. She had kindly swapped it over to me when we met at a sewing camp of Elke Puls. Thank you again, dear Monika. Now I finally make something out of it!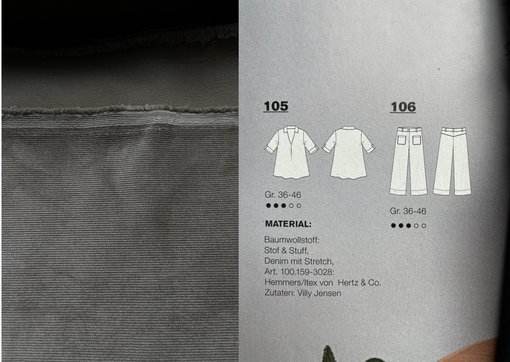 And with that, I'm ringing in the list of pants designs I'd like to sew this year. Every year I take it upon myself to sew more pants, but somehow I've always ended up more with tops until now. I want that to be different this year!
Last year, for example, I had already planned a black linen pants for the summer, but not sewn.
Now I have found a black linen-like fabric in my stash and also a matching pattern from Burdastyle with pockets, but I probably have to leave out, because otherwise the fabric is not enough.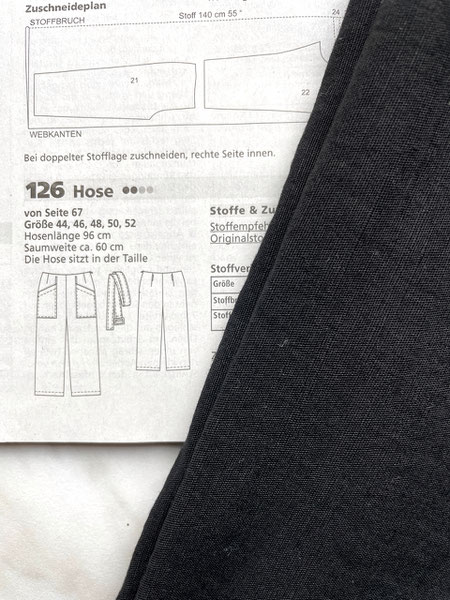 The following pants pattern I would also like to sew first in a black cotton stretch. Although one could I also sew well in all possible bright colors. In the Burdastyle 04/2022 it is in any case presented in a bright blue, which I could well imagine as the next version. What I find great about the cut are the flared legs and the advanced side seams with the integrated pocket openings.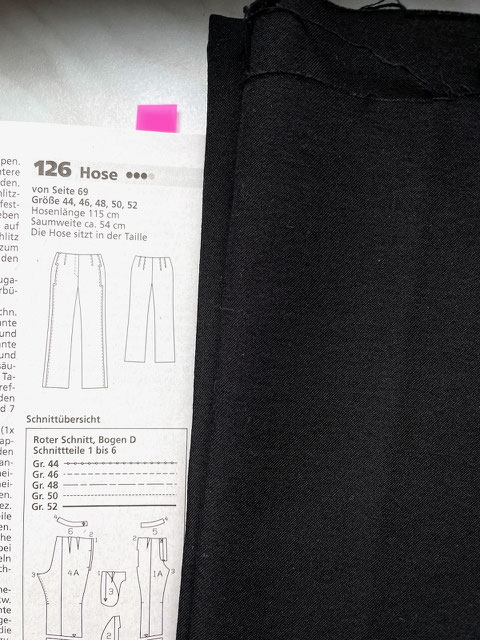 And last but not least, I discovered a midnight blue stretch satin in my fabric stash from which I can sew a nice pair of pants for more festive occasions. The pattern from Burdastyle has also been on my list for a long time. With beautiful narrow tapered legs.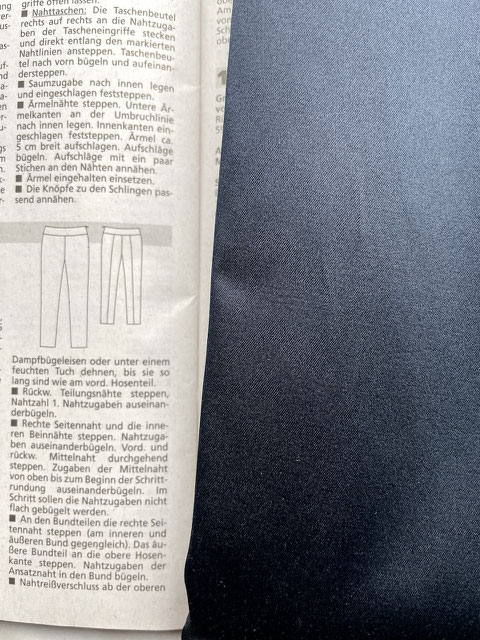 When I have sewn all the projects, a lot of fabric scraps will remain, which I can sew some nice garments for the doll of my niece. The doll has only one dress and is certainly happy about new clothes. I'm also in demand as a designer. I'm curious to see what I can come up with.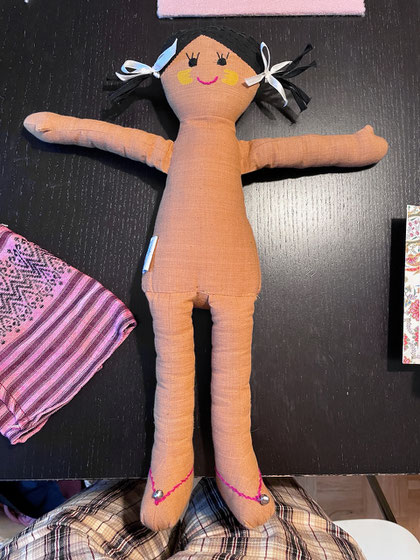 I'm really proud of myself that I've approached the planning and selection of my sewing projects so structured. I'm already looking forward to the results, which will hopefully turn out as beautiful as I imagine in my sewers mind. I'm especially happy that I found all the fabrics in my fabric stash and can even use leftovers from old sewing projects! When all sewing projects are finished, call me fabric removal queen! :-)
Looking at my fabric selection, I can well imagine that many of the new garments can be combined perfectly. Of course, that would be the icing on the cake for my increasingly "green" closet.
Spring greetings from Slowfashionrebel,
Griselda
+++SayNoToFastFashion+++